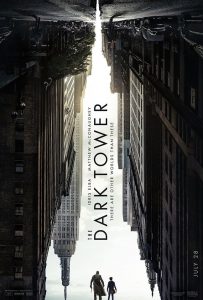 I just got back from seeing The Dark Tower. I'm a stewer. When I see a film, I generally can't talk about it immediately afterward. I have to let it stew in my mind awhile. When my wife asked me what I thought about it, I found I had fairly instant thoughts on where the film succeeds and where it fails.
[This review is spoiler-free, by the way.]
It's been years since I read the books, and to be honest, I have a love-hate relationship with them. I love the core story, what Stephen King was trying to do, but ultimately, I think the series is flawed in several major ways. So I was eager to see a reimagining that wasn't a strict adaptation. I was excited to see a story using those core elements without having to conform to the original narrative.
That's what we have with the film, and if you want to read more about my thoughts on all of that, click here.
The reason I bring this up is to give you a point of reference on my expectations. I take no issue with the film deviating from the source material. In fact, I welcome it. And all of that stuff, the faithfulness, the adherence to the original story, let's pack that up and set it aside for now. Let's just talk about The Dark Tower film as a film on its own.
I enjoyed it. Ultimately, though, I'm disappointed.
Continue reading

"The Dark Tower Is … *sigh … Solidly Okay"