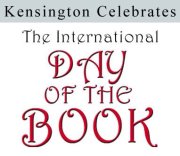 This weekend, I was at the International Day of the Book Festival in Kensington, Maryland, a small town just outside of Washington, D.C.
Kensington is on one of D.C.'s major commuter routes, Connecticut Avenue, but most people who have ever driven through it have probably never turned onto Howard Avenue through Kensington's historic district. It's relatively small, but its finely aged buildings set across from landmark train tracks make for an interesting stroll into one of the D.C. area's time-locked places. Many of them have been swept away in the name of progress.
Leading up to the festival, the weather forecast was rain. Since the festival was to be hosted outside, that would have been a problem. Fortunately, the rain hurried along and came through the night before, and the weather couldn't have been better.