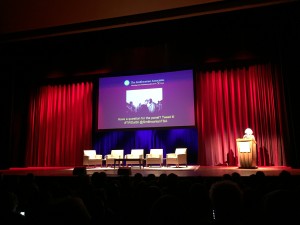 The Walking Dead is a dramatic post-apocalyptic television series in which zombies have risen and taken over the world and a band of survivors have to seek refuge at every turn as they continually battle the dead and the living for safety.
Just for all of you folks who have recently emerged from your underground bunkers where you weathered a nuclear holocaust that didn't happen. Thanks for joining us!
Everyone knows about this show. It's kind of a big deal. It exploded at the height of the zombie genre's popularity, and for years, its success has been used as a kind of barometer for the market of such stories. Oh, what's this? The Walking Dead's ratings ticked down a bit!? Zombies must be dead.
[Warning: Spoilers for the show follow. If you aren't caught up through the first half of season 6, go away.]