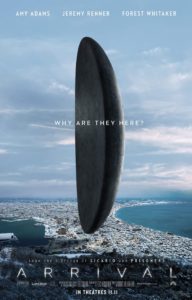 I don't review movies here all that much, and the honest reason is it isn't often that I see a relevant movie when it's relevant. Movie theaters are too expensive, and by the time a movie gets to Netflix, it's old news and has to contend with my desire to catch up on Supernatural.
But so many people close to me told me to go see Arrival that it got me out of my apartment on a Friday night with my wife for a romantic evening of food court dining and aliens. And it turned out to be special.
Arrival is a film that works on a simple premise: aliens arrive and park their space ships over 12 seemingly random locations on Earth, and then they just sit there. The tagline poses the question, "why are they here?"
Beyond that, Arrival is a film that works on extremely complex premises. It's clear that this film was lovingly crafted and resided in the minds of brilliant story-tellers for such a time for them to get it all right. It is thoughtful and thought provoking. It feels authentic. It is, by many metrics, a perfect film, nailing the basics and knocking the most high-level concepts out of the park.